And… we're diving right in!
Yup, that's my new intro.
So, happy Sabbath Eve, y'all. (Well, it'll be Sabbath Eve by the time this is posted. Not quite yet!)
Today I thought it would be fun to just do a super chill post where we do exactly what the title says – talk life. I'm just gonna be talking about some random stuff and sharing some more random stuff that I hope you guys enjoy!
Breaking News from Joy's Life!!!
Yup, there's some BREAKING NEWS from the life of yours truly! Guess what, guys!!!??? *doing a ridiculously happy dance* I have returned to ON-CAMPUS SCHOOL!!!
AHHHH!!! I returned on Wednesday, and it was the happiest day!! It was just such a gift to see all my teachers and my principal in person again, as well as some of my friends who also returned. (Some people are still virtual.) I am insanely happy to be back at my school. It's the place I love, the place that will always be dearest to my heart, the place where I did my spiritual healing and growing.
And it's still that beloved place. It may be a little quieter, and strange not to see everyone's face (since we're all required to wear a mask), but I'm just so happy to be back. It's where I belong. I count myself infinitely blessed to attend a Christian school.
It was a joy to see everyone there in person. Not gonna lie, it was tough that we can't hug because of social distancing. I miss being able to give hugs. But there are things called social-distancing hugs. (A term my principal and I invented months ago, lol. Actually, no we didn't – I'm sure it's been around before. 😂) What I mean is an emotional hug. Which I send to all of y'all right now!
Anyways, I am just so happy to be back on campus and had to share that with all of you. Also, please note that because of this I may be slow sometimes to respond to comments or emails through my contact form. Just know I am not forgetting or ignoring your message if I'm ever slow to reply. It's 'cause I'm on campus now! YAY!! *still celebrating*
Artwork
For the first time on this blog, I'm gonna share some of the sketches I've done. For those of you who didn't know (I don't think I've ever mentioned it on the blog before), I LOVE to do pencil sketches. Drawing is a hobby of mine which I actually discovered very recently (in about the middle of November 2020, lol). I started taking art class for school, and my first assignment was to sketch any animal I pleased. I chose a dove and followed along with a YouTube tutorial, and I had so much fun! It was then I realized drawing was something I wanted to pursue as a hobby, so I got a huge sketchbook. I follow along with YouTube sketching tutorials whenever I have a little downtime.
Anyways, enough chatting (note to longwinded self)! I will share a few of the sketches I've done.
I followed YouTube tutorials for all of these, as I'm not skilled enough yet to move my pencil in the right motions by memory. Here are the links if you'd like to recreate these! They were all so much fun to draw.
You'll notice that my variations often look quite different from the artists' work in the videos 😂 But I'm really happy with all the results! All these tutorials are awesome and super easy to follow. So if you'd like to do some sketching, there they are for you to enjoy!
This masterpiece is not my work! My Abuelo (whom I never met) sketched it. He kept a sketchbook full of drawings, being an insanely talented artist, as this one simple work shows. He has a ton of awesome stuff in that book. When I became interested in sketching, my mom gave me his sketchbook as a gift for me to keep. I love to flip through it. It's really nice to see my Abuelo and I had a love of sketching in common. It makes me feel close to him although I never actually met him.
If you're wondering what the Spanish writing beside the sketch says, here is the translation for y'all! It says, "Who's calling me Brownie?" LOL! That's an inside joke my Abuela had with my Tio. She nicknamed him Brownie, so she actually made up the word Pietos. It actually doesn't really exist in the English language. Google Translate doesn't detect it, after all! So Abuelo drew this funny sketch of my Tio expressing contempt for his nickname.
Anyways, I hope to be as talented as Abuelo one day, and be able to draw from my own mind and not from YouTube tutorials!
Book Covers
One of my amazing writer friends, Grace, volunteered to make me some covers for The Apostle's Sister! So of course I took her up on the offer. Here are the two gorgeous covers she made.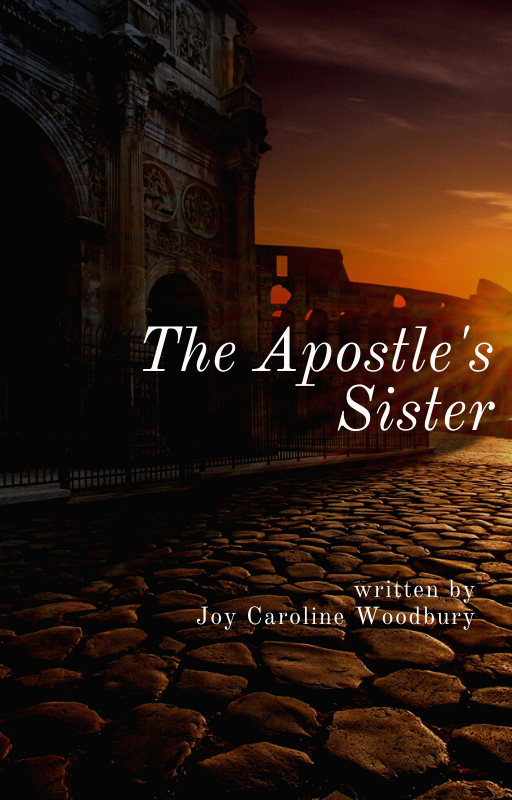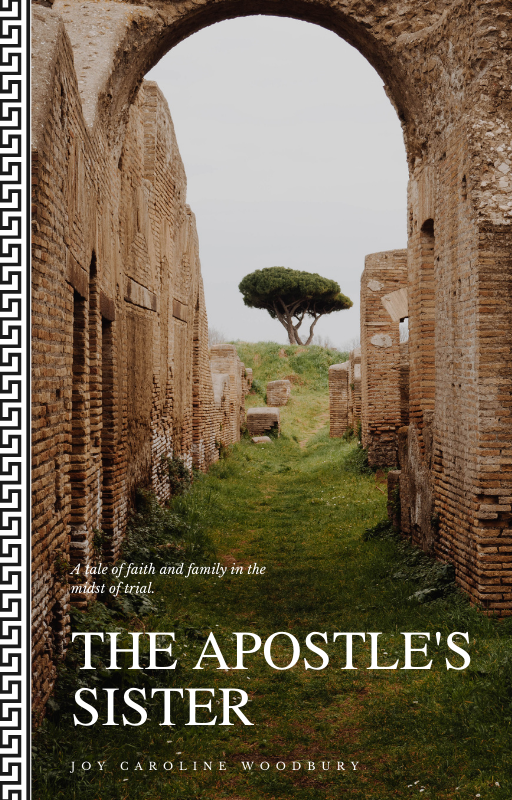 I love them both SOOOO much! So Grace, if you're reading this, THANK YOU THANK YOU THANK YOU AGAIN!!
I love the first cover because of the beautiful mixture of dark, dim, and light. I feel that really showcases TAS's themes in a very beautiful way. One of my themes in TAS is that whether things are dark, whether they are dim, or whether they are light, God is there through it all.
I love the second one because the tree in the distance just represents life and goodness. Jesus said that he is the vine, and we are the branches (John 15:5). I love that verse. And CAN WE TALK ABOUT THAT GENIUS TAGLINE!!!??? I love love love love love love love love it!!! (Okay, time to calm down. But not really 'cause I do love it!)
"A tale of faith and family in the midst of trial." Grace is a GENIUS for coming up with that one. It describes the story PERFECTLY! PERFECTLY!
So you guys can admire those covers for however long you like. XD
Songs for The Anointed
For the next exciting thing, I've got some songs for The Anointed! These are all beautiful songs that describe the story perfectly. And honestly, while I listen to them, I get kind of emotional because they remind me so strongly of Seth and his story. I knew I had to share them with y'all in this post!
This first song is Ephesians 1:3-6 (NKJV) – "Adopted as Sons." Esther Mui sings it, and her voice is SO BEAUTIFUL! It honestly brings a lump into my throat, and the lyrics are so awe-inspiring.
As soon as I heard this song, it reminded me instantly of The Anointed. And it also made me realize something else, something very profound that gave a whole new insight, a whole new significance, to Seth's story.
I really can't believe I never realized it before: Multiple times in his epistles, Paul describes the children of God as being ADOPTED children. Wow. As soon as I realized that, it just blew my mind. It changed my view of Seth's story forever. I'm ashamed to say I never before paid special mind to the way Paul frequently speaks of adopted children.
Just listen:
"In love he predestined us for adoption to himself as sons through Jesus Christ" (Ephesians 1:4-5).
"For you did not receive the spirit of slavery to fall back into fear, but you have received the Spirit of adoption as sons, by whom we cry, 'Abba! Father!'" (Romans 8:15)
"They are Israelites, and to them belong the adoption" (Romans 9:4).
"To redeem those who were under the law, so that we might receive adoption as sons" (Galatians 4:5).
How did I read all those verses so many times and never once notice that pattern? I literally can't believe I never noticed something so significant!
I was just amazed by how many times Paul describes Christians as being ADOPTED children of God. I find it very significant that he chooses the word adoption instead of describing a biological relationship. It really made me think in a new and profound way about his relationship with Seth, his adopted nephew and his sister's adopted son.
In The Anointed, Seth often (mistakenly, of course) believes Paul and Temira love Reuben because he is their "real" nephew and son (by blood). Seth believes his mother and uncle don't really love him because he isn't their own flesh and blood. They just sort of care what happens to him, but their feelings don't go beyond that. Seth feels that he doesn't truly belong to Paul and Temira because of his adoption, and he wishes he belonged to "real" parents. Nothing could be further from the truth.
In reality, Seth was loved by Paul because of his adoption. Not to say that Paul loved either Seth or Reuben more or less, but that Seth's adoption gave him a very special place in Paul's heart. He was basically a living representation of the Christian's adoptive relationship with God. Eventually Seth does realize this. Now that I've realized all this myself, writing his story has taken on an even greater significance for me. It's made me all the more passionate about this story, and all the more determined to finish it and inspire others with it.
The second song is "Bad Dreams" by Faouzia.
I am SO excited that there are Faouzia songs which describe The Anointed! Okay, guys, so storytime. One of my best friends told me about Faouzia, and I immediately looked her up, as I love music and am always looking for new awesome music!
I fell in love with Faouzia as soon as I listened to her music. Her voice is INCREDIBLE. The thing I love most about her is that all her songs are very appropriate and beautiful. They all have wonderful messages, deep meanings, heart-grabbing lyrics, and teach great lessons. Not one of her songs has a swear word, so I never have to worry about accidentally hearing a word I don't want to hear. I watched one of her interviews, and she's a very kind and modest person. I trust her music. Literally, I've been listening to it all the time lately! She's definitely a new favorite artist of mine. I HIGHLY recommend looking her up. Some of my other favorite songs of hers are "Tears of Gold", "You Don't Even Know Me", and "The Road."
"Bad Dreams" fits The Anointed PERFECTLY. One of the most significant plot elements in the novel are the recurrent, terrifying nightmares Seth suffers from as a result of trauma. I especially love the lyrics "I'm tired but I can't sleep // 'Cause they're waiting for me // These bad dreams are more than true // And they'll get you." And these lyrics: "I don't know what they mean // But I know I don't want to."
The third song is "Born Without a Heart" by Faouzia.
"Born Without a Heart" fits Seth's character UNBELIEVABLY well. It's like the song was written for him.
Here are the lyrics that remind me most of him: "I can't wake up from all these scary dreams I have // I don't really care, and I never will // That's the way I am, such a bitter pill // I don't really care, how much silence kills // That's the way I am."
And these lyrics, too: "No, I wasn't born without a heart // I wasn't always like this, no // Watched you break me, no."
Because of the things he, at a very young age, had to watch Paul endure, Seth received scars. And as a result, he became bitter and hard. Though only very young, he vowed he would never forgive Paul's tormentors, and he made good on that vow. He stayed angry and vengeful, believing that forgiveness would be a betrayal to his uncle and only opening the door for Paul to be hurt again. As a result of that, he closed himself off even to Paul and Temira, and it took even more drastic turns in his life to finally change his heartless exterior.
Yup, I've been doing a lot of work on The Anointed, as you can probably tell by that passage.
And I've saved the best for last. The final song, and my favorite song, is "So Far to Find You" by Casting Crowns.
Everything about this song is just PERFECT, PERFECT, PERFECT for The Anointed. "So Far to Find You" is definitely the novel's theme song. No song represents The Anointed, its every theme, and its every character as profoundly, emotionally, and beautifully as this one does. I was just overwhelmed when I listened to this song for the first time and immediately realized – "Oh, this is The Anointed theme song." I just got so emotional while I listened to this song, and my eyes filled with tears. I just can't describe how incredible it is.
"So Far to Find You" perfectly depicts Paul and Temira's unconditional, pursuing, passionate love for their adopted child. EVERY WORD in the song just describes that love in every beautiful detail. I never imagined I would find a song that did that.
Here are my favorite lyrics:
"You were broken, abandoned // And crying all alone // We were waiting and praying // And longing to bring you home // And then we saw your face // In a moment you were wrapped up in our hearts // We took a step of faith // And now here we are."
(continuing)
"You were fighting and fearful // You were hiding your heart away // But I was trying so hard to show you // 'Cause there were no words that I could say // If you could see my heart // You would know that all I want to do // Is care for you."
(still continuing)
"Will you let me hold you in my arms tonight // I have come so far to find you // So far to find you // Will you take my love and give up the fight // I have come so far to find you // So far to find you."
(yet still continuing!)
"Here in your eyes I see // Reflections of myself."
I just realized I literally wrote down more than half the entire song. 😂
Ay, you guys HAVE to listen to this song!
Hope y'all enjoyed this post where we just talked life! XD
I really do hope y'all enjoyed it. I really enjoyed writing it. Don't forget to comment and say hi! Tell me what's going on in your storyworlds, or just in your world. I love hearing from anyone and everyone!!
You know the drill – eat, pray, write, repeat!
Joy